Foreign countries pitch to Americans in Texas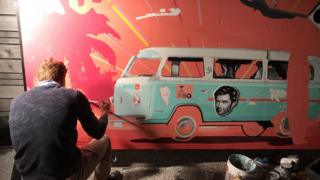 The South by Southwest festival in Austin, Texas, once known only as a quirky week of musical performances, has become a showcase for national pride and self-promotion.
In the past few years SXSW, as it's abbreviated, has grown into a technology summit, a film festival and - thanks to the increasing presence of foreign governments - a mix of Disney-style paeans to cultural identity and the kitsch of a world's fair, with a heavy dose of booze and partying.
All across downtown Austin, national tourism and trade bureaus have rented out entire restaurants, bars and even homes and changed them, for more than a week of events, into miniature embassies of culture and business.
Several national airlines have even offered a handful of special non-stop flights from their home nations to Austin just to help their residents make the trip to the heart of Texas.
Denmark brought Michelin-rated chef Mads Refslund from New York to create Nordic-inspired appetisers for visitors to the Scandinavia House and cook a multi-course dinner - with offerings like raw sweet shrimps with fermented plums and oxalis and fire-roasted bone marrow - for select guests in a private dining room.
Read full article Foreign countries pitch to Americans in Texas