Shutdown: Be careful what you wish for, President Trump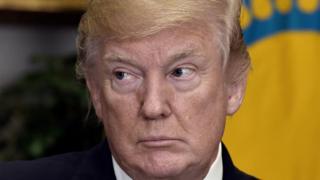 It was a busy morning for Donald Trump on Twitter, and his latest fusillade is creating headaches for his own party.
First, the president denied a statement from his chief of staff yesterday that his views on a Mexican border wall had "evolved" (despite the fact that he has, in fact, changed his position). Then he threw sand, a wrench, an entire toolbox into the gears of his party's efforts to pass a temporary spending bill to keep the government open past Friday night.
The Republican strategy, crafted by congressional leadership, was to pass a bill that would receive enough Republican support to overcome unified Democratic resistance in the House and then jam Senate Democrats into either grudgingly voting for the bill or forcing a politically fraught shutdown over protections for undocumented immigrants.
A key piece of this strategy was to include long-term funding for Chip, a health insurance programme for children from low-income families, in the measure. It's something most Republicans support and Senate Democrats would be reluctant to be seen voting against. The glide path to a temporary budget extension, while bumpy, was realistic.
Instead, the president shot down the Chip provision in a Thursday morning tweet.
Read full article Shutdown: Be careful what you wish for, President Trump