Markets
FTSE 100
As of 19:07 17 November 2017 - Market closed
index value

7380.68
index change:

-6.26
index change percentage: down

-0.08%
Open

7386.94
Previous close

7380.68
52 week high

7562.28
52 week low

6730.72
All market data carried by BBC News is provided by Digital Look. The data is for your general information and enjoy indicative status only. Neither the BBC nor Digital Look accept any responsibility for their accuracy or for any use to which they may be put. All share prices and market indexes delayed at least 15 minutes, NYSE 20 minutes.
Previous close
Latest updates
London Market Reports
Today 17.11.2017
12:35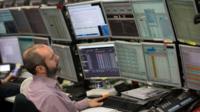 Sky led the FTSE 100 higher on Friday on reports two firms are eyeing 21st Century Fox's stake in the company.
Yesterday 16.11.2017
17:08
FTSE ends higher
The FTSE 100 has ended the day in positive territory, up 14.3 points at 7,386.
GKN was the biggest faller, down 4.8%, after saying its CEO-designate would not take up the top job after all.
Pharmaceuticals firm Shire had a better day, ending 6% higher to top the risers.
Over on the FTSE 250 there were some nasty falls, with Spire Healthcare and Dignity both sliding almost 9%, QinetiQ shedding 7% and TalkTalk down 6.6%.
16:48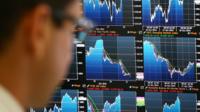 Shares in the engineering firm drop 4.8% as its chief executive-designate leaves the company.
15.11.2017
13:06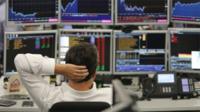 The FTSE 100 drops to a six-week low, weighed down by falls in major mining and oil stocks.
13.11.2017
17:02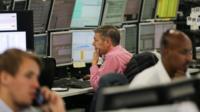 Sterling drops after a report says 40 Conservative MPs would sign a letter of no-confidence in the PM.
10.11.2017
17:16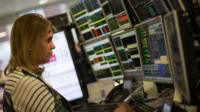 The UK market ends trading for the week at its lowest level since 29 September.
12:59
FTSE falls further
The FTSE 100 is sagging in lunchtime trading, falling 0.3% to 7,458 points.
Energy company SSE retreated 2.7% two days after confirming it will merge its UK domestic business with Npower.
Associated British Foods reported positive results this week, but shares have fallen 1.9% as the food-to-fashion company said profits at its sugar unit would slide.
Housebuilders Barratt and Persimmon both rose about 1%.
The FTSE 250, meanwhile, is flat at 20,058.8 points.
09.11.2017
18:09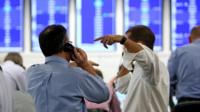 Shares in the fashion house sink 10% as it announces plans to move further upmarket.
10:00
Retailers punish FTSE
Retailers are performing poorly on the FTSE 100, which erased earlier losses to be flat at 7,528 points.
Luxury fashion house Burberry (pictured), which reported higher profits but announced a new strategy that has spooked investors, is down almost 10% - making it the biggest faller.
Marks & Spencer shed 3.4% after saying on Wednesday it would open fewer Simply Food shops than expected. Meanwhile, Sainsbury's fell 3.1% after reporting a 9% decline in half-year profits.
The biggest gainers on the FTSE 100 were Informa, which rallied 2.6%, and Astrazeneca.
08.11.2017
17:06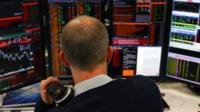 The housebuilder's shares fall almost 4% after it issues a poorly received trading update.
Back to top